The Medusa is a longer story. It started back somewhere in 2017 when we meet up with the Dreadbox team for the first time. Long talks, exchange of ideas. Discussions about the status of nowadays music industry. Common passions, and a fast decision. Let's do something cool together! Shortly after, a surprising visit of Dimitra and Yannis to our headquarters took place. Things escalated quickly after we had some first sketches of the coming instrument. The Initial desire was to add a sequencer and preset functionalities to the famous Dreadbox monophonic analog voices. But as they say, the more you have, the more you want. Thus this liaison grew up to something utterly unique and significantly different from what we had all originally planned.
And so the Medusa Hybrid Synthesizer came to life. Fruit of a collaboration between two completely contrasting companies. It emerged from both teams' unusual approaches to the topic of integrating a classic analog character with a versatile digital domain into an all-in-one polyphonic instrument. And merging it with an exclusive musical Grid controller. That would give its users access to expressive performance and convenient sequencing options.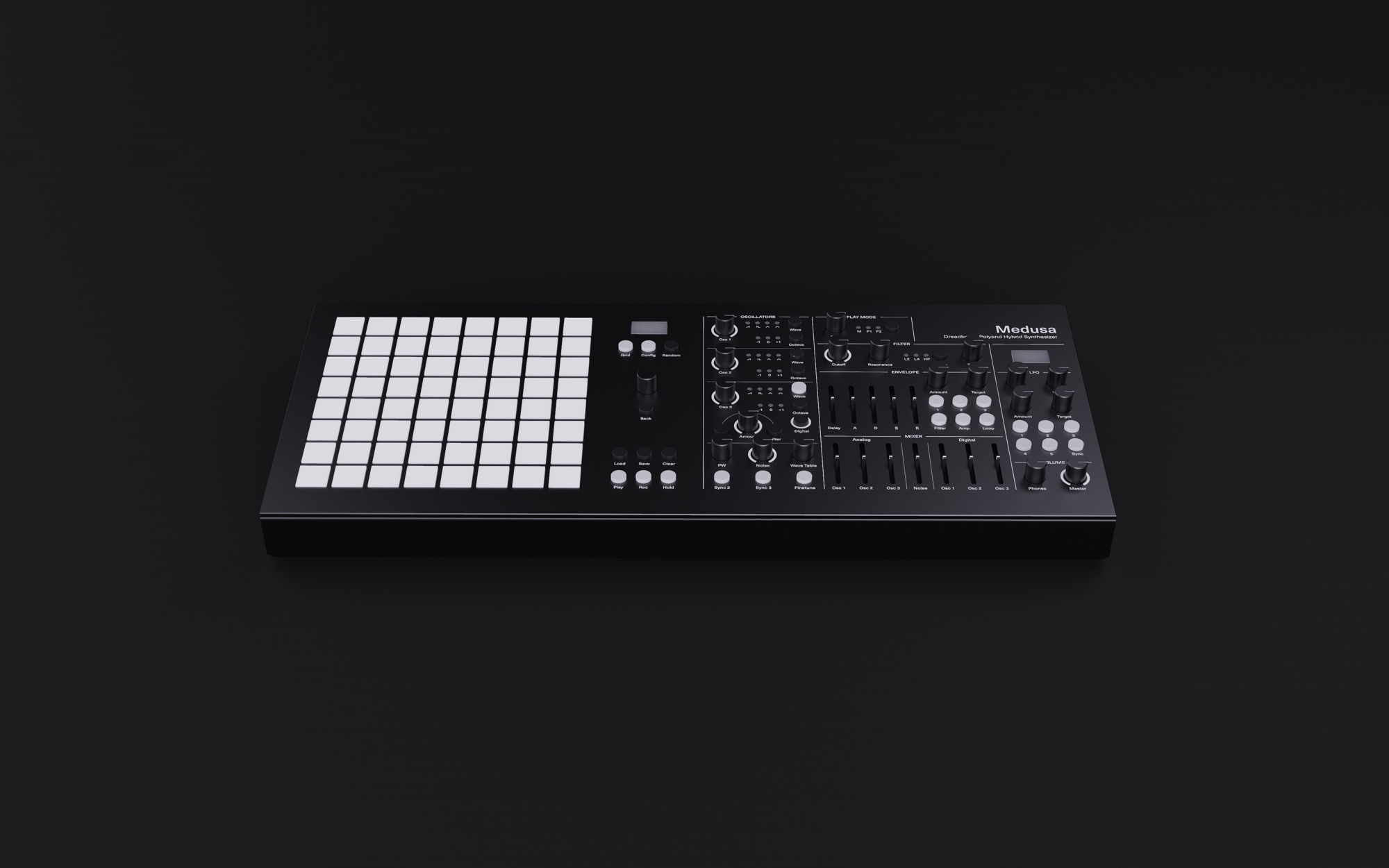 Talking about the Grid, a matrix of pressure-sensitive pads. One of the things that made Medusa so special. It allowed to turn it into a custom controller. But also to store more than a hundred parameter automation per pad. This gave access to programming own kits of different sounds per pad in a single patch. You were able to manually trigger these or easily create complex-sounding sequences.
Medusa's synth engine was made to be versatile. And capable of producing a good range of analog and digital tones. The synth could truly impress as a lead synthesizer. But it was also ready to deliver pads, sound effects, dangerous basses, and even percussion. Its digital oscillators stack was offering fully morphable wavetables enhancement on top of a thick three oscillator analog sound. All are processed by a famous Dreadbox analog multimode filter. Accumulated by its various voicing modes, it was close to an ideal device in many ways. Both a standalone synth and an excellent controller. Or both at the same time.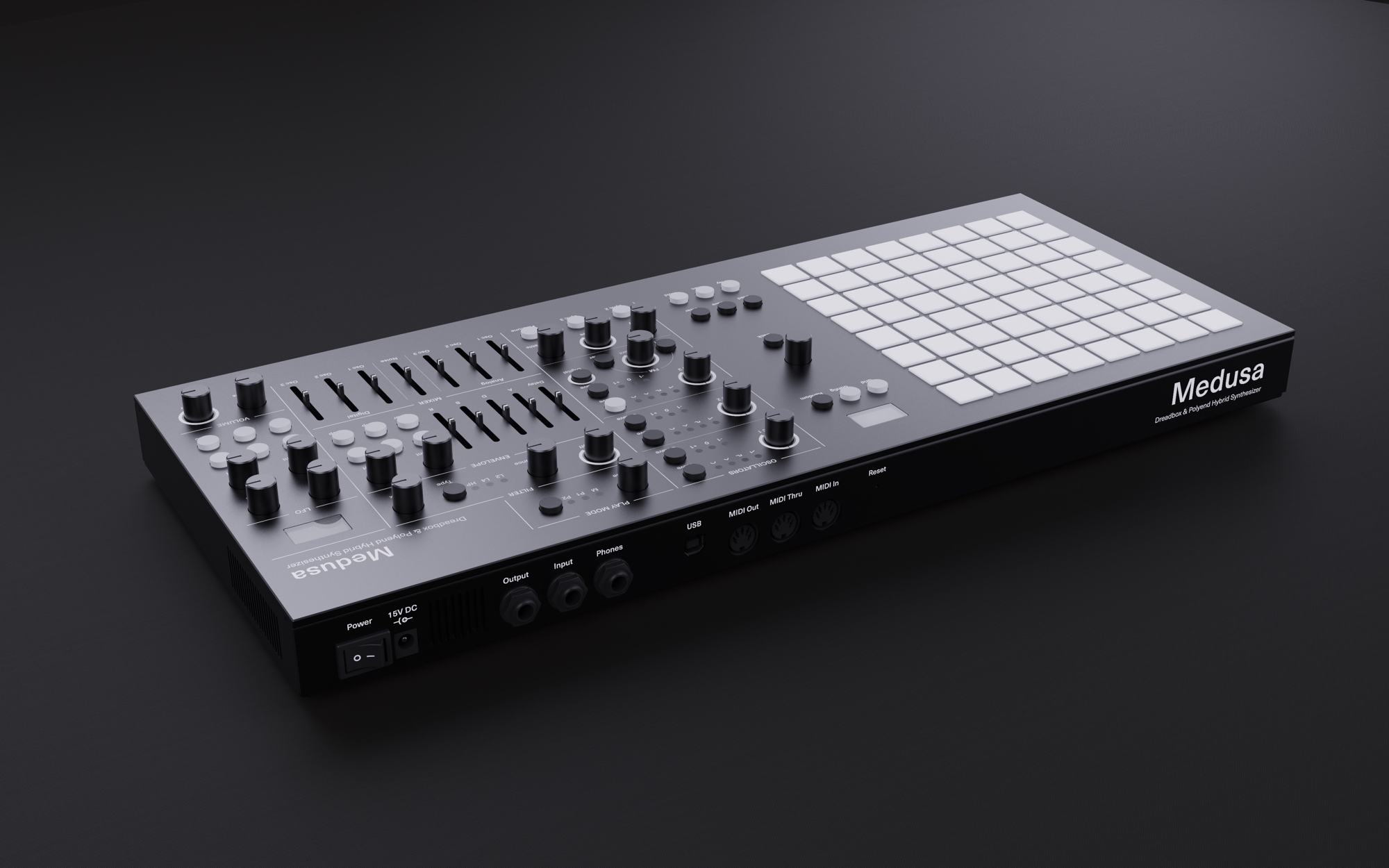 The Medusa was offering copious modulation options. Five separate envelopes and five separate LFOs provided loads of sound design possibilities. Allowing you to go really deep with sound design activities. Modulation was made as straightforward as possible. Either an envelope or LFO was aimed at a single destination. A shortcut method of allocating the target, by holding a source button and moving one of the panel controls was also available. Once you grasped the concept, you were all set. All your actions were corresponding to the informative OLED displays.
All this functionality was merged in one clearly marked layout. Sealed in a sturdy tabletop aluminum chassis form. Its interface was offering handily placed per-function modulators. And informative LED buttons for the comfort of use during the tons of hands-on editing. The Medusa project was all about revealing new quality and ideas in music. We were aiming at encouraging its users for further sonic explorations.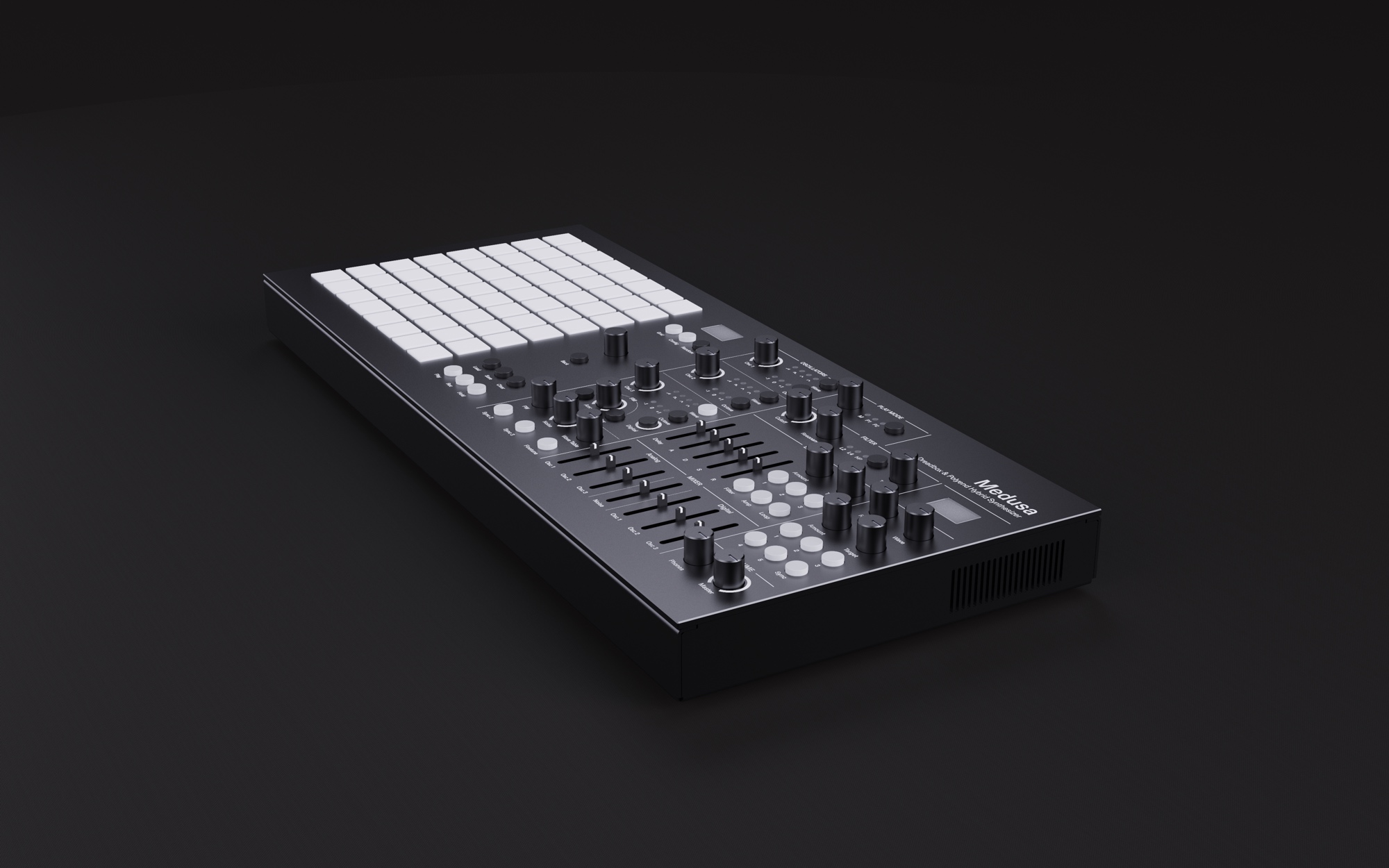 Somewhere in time, focusing on their subsequent synth projects, our Greek friends decided to proceed their own way. This ceded the further development of the hybrid collaborative venture on the Polyend team. Which was enthusiastically taken care of. And brought a series of radical new features included in further firmware updates. To name just a few of them. An FM synth engine, drone mode, a voice per MIDI channel mode, LFO sync, and seamless integration with Polyend Tracker. Changes were not limited to the firmware side only. We've also decided to refresh its hardware part. As a result, the Medusa was offered in two graphic design versions (not counting these few very rare silver units we've made for fun). The classic grey unit and the Black Limited Edition models were available. Upgrades like modified sliders and clickable encoders were also introduced in the later model.
It took us a moment to finally understand that the Medusa is a mature instrument. Before this happened, we literally had to limit ourselves from tucking more and more new features into it. Just like you're going to have to withhold yourself from tweaking it all the time. Careful, Medusa might be dangerously absorbing and can drag you in for a long time. Our hybrid synth is already considered a future classic by some. Soon, because of its limited quantities introduced to the market, it may also get a white crow status too. It's always exciting to see this strange beast in skilled hands. The performance and sound design capabilities of the Medusa are substantial. Though it may require some time and effort to learn. The Medusa will reward your interaction and attention. And will delight these in search of something fundamentally different.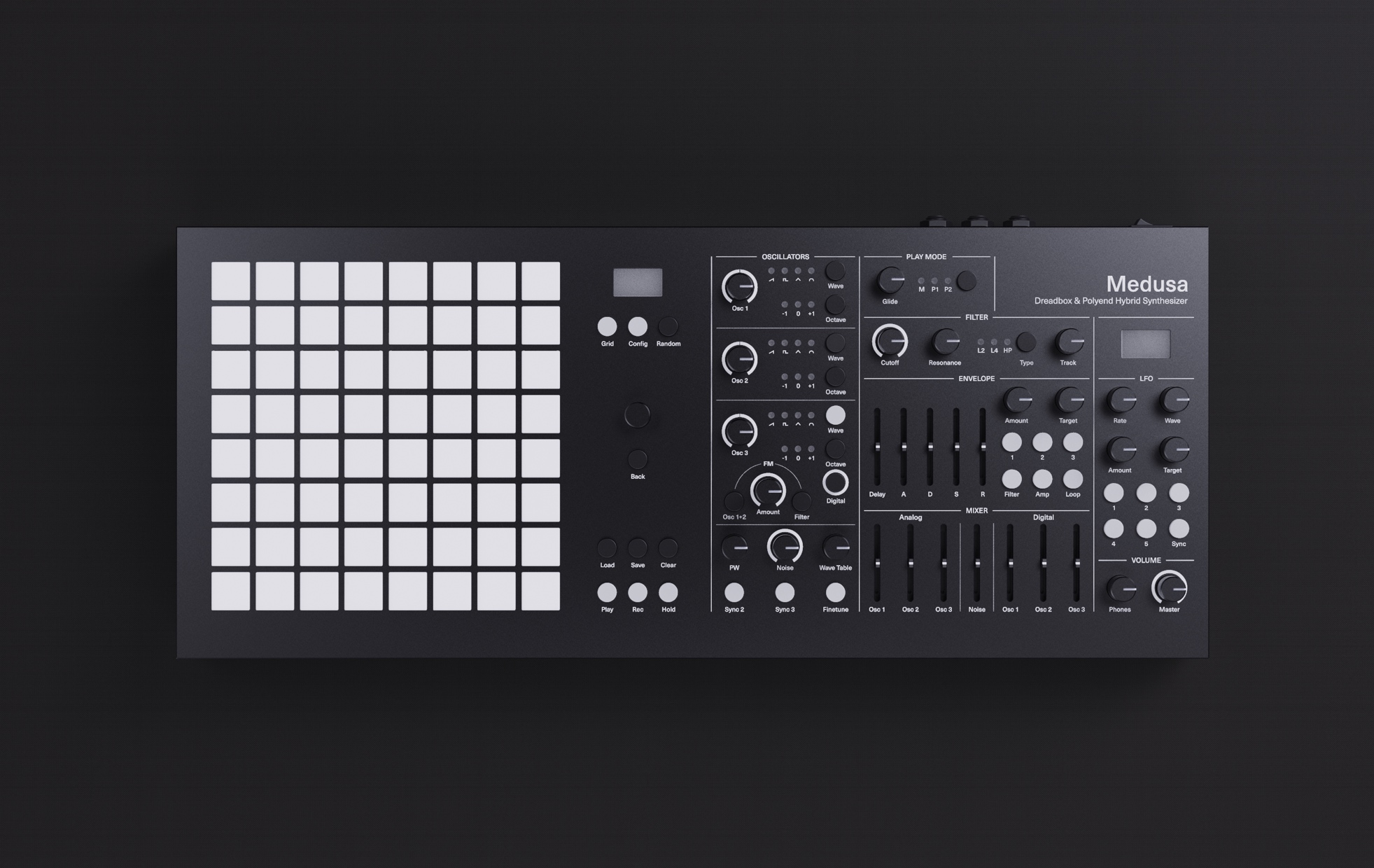 Using the last paragraph, we want to emphasize the fact, that without the Medusa, the Tracker would probably never happened. Working hand to hand with a much more established and experienced brand sparked us up to another level. And this applies to every level of our activities. It wasn't an easy ride, but absolutely worth it. We've learned a lot. It made us feel confident that we can carry on with much bigger projects than previously with success.
endorsements
Holger Zilske (Smash TV, Yoko Duo)
"At first I thought I have enough synthesizers… but I really played with it a lot and built lots of elements with it for my live set and I have to say that this machine together with the sequencer really gives possibilities that no other machine has."
Matthew Dear
"Yay! So the Medusa is basically the sound of Audion. I had no idea it would fit so well. I absolutely love it…"
Benn Jordan (The Flashbulb)
"What it accomplishes for me is an instant inspiration to make unique melodies and sounds, and it serves as a much-needed vacation from DAWs and step-sequencers."
Jamie Lidell
"What a crazy design, a polyphonic mode where it cycles thru all the oscillators, lots of variation while pressing just one key, my kind of situation, really funky."
Gaz Williams (Sonicstate)
"Many totally unique sounds can be wrought out of its myriad modulation routings. It's unconventional approach certainly leads you to unconventional places!"
Peter Kirn (CDM online magazine)
"Medusa is like having a pretty packed modular rig, but with straightforward access. I'm impressed by how immediate it is in terms of doing something unique sounding."
Mikołaj Stroiński (The Witcher 3: Wild Hunt music composer)
"Kurwa, zajebiste to jest!" (eng.) "It's fucking awesome!"
Umba
"It's really easy to shape the sounds that come to my mind with the Medusa. Yet, the best part of it is experimenting with its Grid mode, the outcome can be surprisingly unpredictable."
Cory Sterling (Redstripedown)
"On top of being an extremely powerful synthesizer and composition tool, the Medusa is just plain fun."
Marcin Cichy (Skalpel, Universal Exports, Meeting by Chance)
"We especially like smooth sounding wavetable of synth and FM knob which makes it a hell of fun! Medusa's Grid is a perfect tool to trigger not only internal synth. Its unique sequencer can be considered for a live performance DAWless setup."