Scene: M27 – Jungle Minimix 2022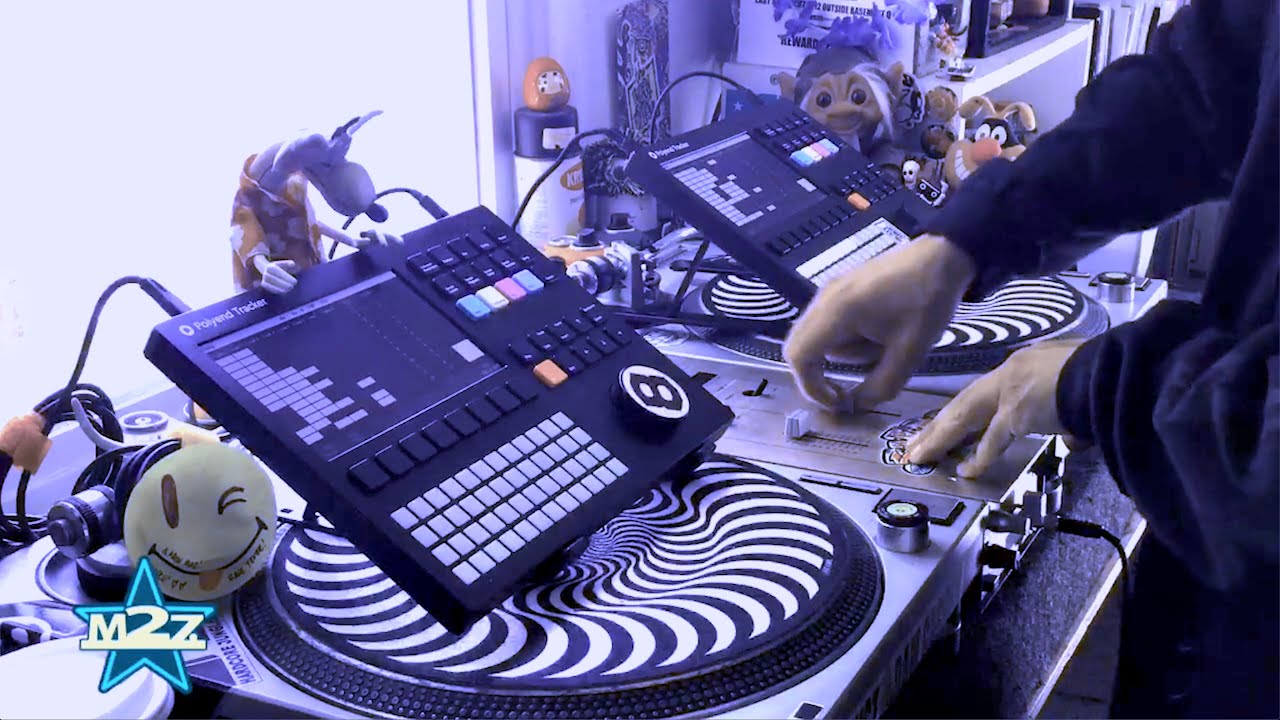 "After a year of field testing out in the jungle, I'm still fully convinced there is no better tool in a junglist's arsenal than the Tracker."
"What I've learned from these no holds barred environments is that there's a need for that live element. We all know it, the thing that makes ya go, yahhhh, this isn't a robot/ jukebox behind da decks. Well, I've come across some tracker hacks along the way."
A couple of these hacks I deploy across 7 different hardcore jungle tracks are:
Beat Juggle without using the crossfader:w
This one is done by cueing up two of the same (or different) tracks and in beat using the play button as a cue, cycling between the two going on and off. This can be applied in all sorts of ways, which led me to the next trick.
Scratching using a Polyend Tracker:
My need for using my scratch skills to add a live element to my set has got me thinking that it is possible using the play button as a cue and the crossfader. In all the projects, I have a scratch band at the beginning of each track to use as a quick go-to DJ tool, with a long ahhhhh sound used for cutting leading into vocal drops much like an accurate DJ tool. I didn't do it in the video, but it is possible to pitch your scratch sound in key with the current track or extend the length of it.
Writing tracks using consistent breaks across tracks to maintain groove:
In the projects, you'll notice that a lot of the projects share similar breaks, but each with its own processing based on the vibe of the track. This does, besides cutting down production time sifting through samples, is it maintains a consistent vibe across all the tracks similar to old school rave and jungle of the past where the same breaks were used to keep a congruent vibe yet be different.
Download
Tracklist
1. Old Skool Weed (00:00 – 03:34)
2. Let's Demonstrate (03:34 – 07:32)
3. Feelin Groovy (07:32 – 10:00)
4. Rumbleee (10:00 – 14:44)
5. Cool Water (14:44 – 17:55)
6. My Angels (17:55 – 20:56)
7. Work Em (20:56 – 23:39)
Get all the projects here.
M27
"A leader and purveyor of the West Coast Jungle. Armed with a skateboard, spray can, and a Tracker. Bringing smiles and styles to an underground near you. Hardcore jungle turntablist from Oakland, CA. With a rich knowledge of jungle tempo history. Born and raised in Los Angeles, now residing in Oakland. My background of influence stems from skateboarding, graffiti, pop, and underground culture of the '80s and '90s. As a leader in the west coast jungle, it's a responsibility of mine to get others to recognize the jungle and the underground sound as the future of music."
---