Polyend Play: 1.1 Firmware Update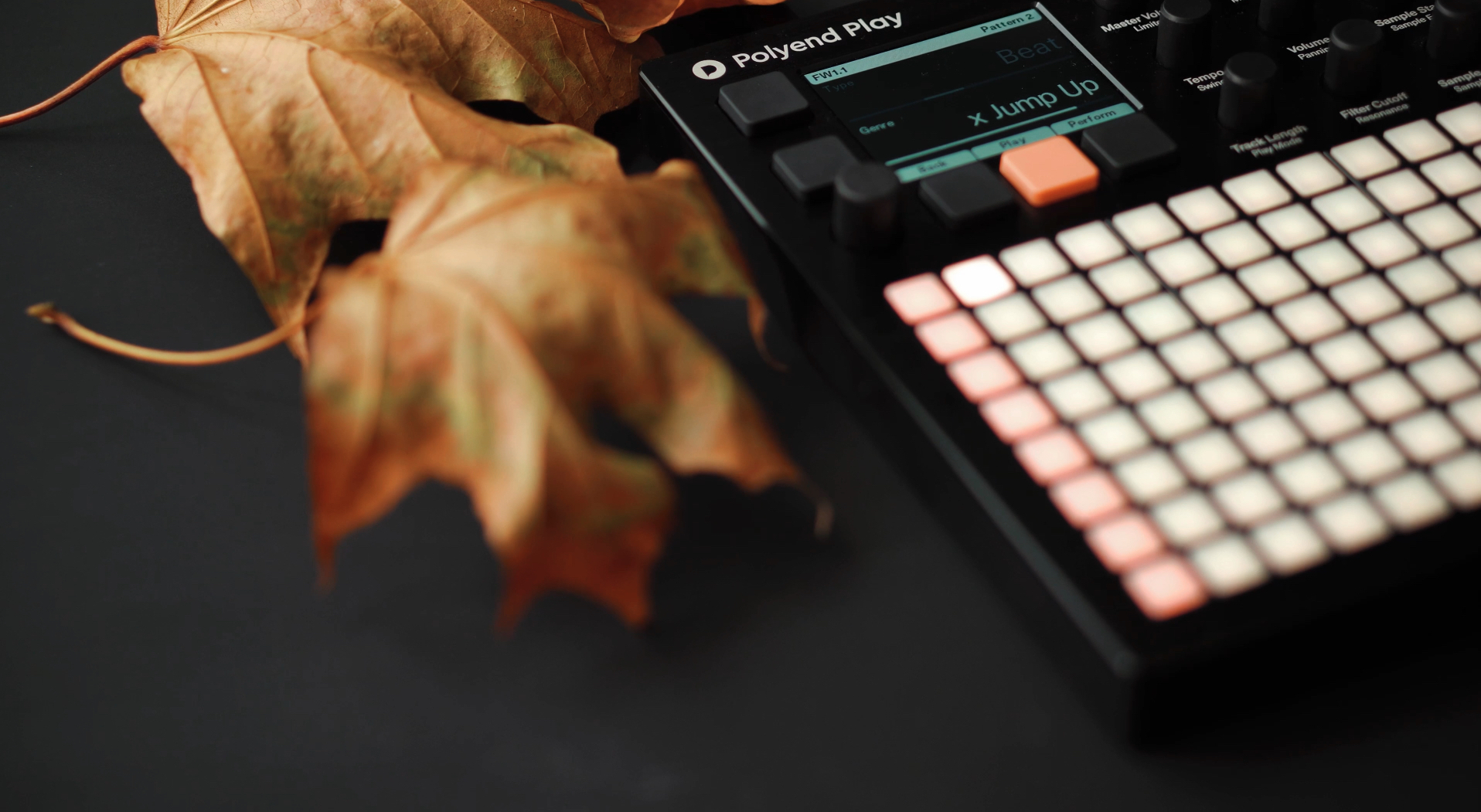 We're announcing the official Polyend Play 1.1 firmware update is ready.
New features delivered with the Polyend Play 1.1 firmware update:
Export files to SD card. Options for master or individual track export, current pattern or whole pattern chain.
New sample pack: House pack.
New sample pack: Tech House pack.
50 additional Beat Fills: Always Different, Always Late, Autumn Fall, Backtrack, Bicycle Fail, Break It, Cat Hat, Crocko, Destroyson, Driller, Drowner, Dubzap, Fade In, Fast Walker, Fill It, Half Life, Hat Trick, Hi-Hat Uzi, Hitman, Intelektual, Jump Up, Jumpy, Kick It, Look up, Market Beat, Melty, Metal Hits, Mind Glowing, Nice Break, Oh Wait, Pattern Break, Pitcher, Playing Funny, Rewind, Ridge Racer, Robot Drum, Sewers, Slow Down, Snaresky, Spaciality, Spill That, Step Up, Swing It, Swoosh, Take It, Think, Tin, Too Basic, Two People, Way Too Late.
Sample Management improvement: delete all unused samples in the project.
Align and improve different Quick Copy workflows for Patterns, Variations, Step Pages and Steps.
New look of Variations page. Variations are now represented with following colors: Active variation – orange, available variation – yellow, empty variation – dark yellow.
New look for Patterns page. Empty patterns are represented in a dimmed green color.
Send MIDI clock & transport out to both DIN/Jack and USB simultaneously.
New setting to allow for knob sample preview when playback is running, stopped or both.
Saved session is cleared when switching track variation or pattern.
Workflow improvement:  sample playback using the internal keyboard or external MIDI note now works when a track is selected.
Workflow Improvement: always use Shift to transpose notes via internal View keyboard or external MIDI Notes In. The internal view keyboard and external MIDI note input will not transpose a sample or samples unless shift is held. If a note is selected without holding shift the sample will be previewed without transposing the selected step.
Bug fixes
Fixed display to update parameters after switching variations.
Fixed multiple variation copy and display bugs.
Fixed multiple issues with saving and recalling sessions.
Fixed crash when deleting a folder during playback and preview.
Applying random sample actions can now be heard in preview.
Velocity using an external MIDI keyboard is now recorded.
Improved MIDI clock timing.
Changing MIDI note to "no note" no longer locks the note input.
Multiple steps are no longer modified all at once in live record mode with overdub off.
Detailed changelog, firmware update file, and a free instruments example pack are available here.