Scene: TheGhostCat – Deceptive In The Ring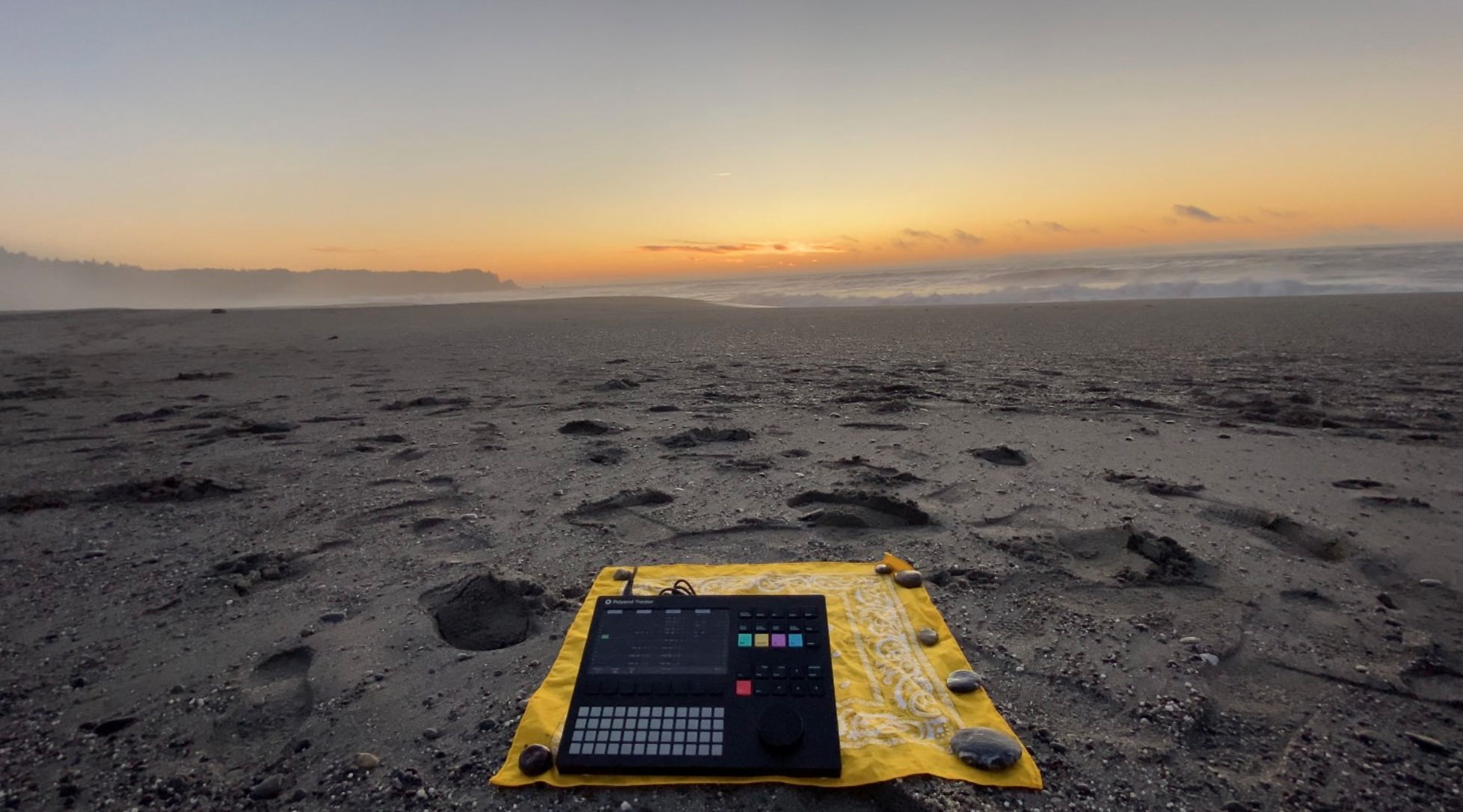 "It was while surfing FM radio frequencies on the tracker that I found the inspiration for my latest song and its theme."
"Delivered via the tail end of a sports update from a small local radio station. It might not have even been about boxing, but that's the picture my brain painted. A few seconds of recorded fanfare and an announcer saying something ultimately unimportant and unintelligible. Regardless, in that little window of time, I could see the crowd, I could smell the arena, I remembered the sensation of spectating a live boxing match. The moment and audio sample came and went before I could recognize what it had fueled but not before I could hit record. It was almost nothing, but I got what mattered out of it, inspiration.
Already sitting in front of the tracker, I lost no time or motivation and set the task to build the song I present here to you.
You never know at what time or in what form inspiration will offer you a visit. It pays to be prepared to take full advantage of those fleeting fires while they are lit. Having a tool like a Tracker that can be there when the moment hits and can execute what the moment calls for, is a huge asset in my artistic endeavours… one that is, in this humble cats opinion, unrivalled."
Download
TheGhostCat – Deceptive in the ring project file is available for you to download, explore, expand, reimagine, mangle, or simply to take a peek into how I made this song. Sharing is caring.
Description
"In my latest tracker creation, "deceptive in the ring", I utilize several of the Tracker's tools to add a sense of movement and variation to a few relatively short and otherwise unchanging loops, I will elaborate a bit more on this in the track breakdown.
I made a decision to keep things fairly simple in regards to the musical or melodic elements of the beat and place a bit more emphasis on the variety of thematic samples used to tell a story. The main mantras here being 'less is more' in regards to the instrumental (this saves sample space for thematic samples), and 'more is more' in regards to the theme setting material.
As a testimony to the above, vocal samples and slice points aside, there are less than 10 samples used in this project. There are however lots and lots of vocal samples. Mute track 7 if you want the boxing-theme-free version of the beat. Better yet, swap out the vocal samples with your own found samples to create a new theme or tell a new story over the beat (when making this beat I made a point to leave the lions to share of the sample time unused).
No external hardware or software used. all samples sourced from vinyl and the worlds largest digital crate aka the internet. Made 100% on Polyend tracker."
Track breakdown
1&2: The main melodic sample is played on tracks 1 and 2 with subtle differences in panning, filter type, filter LFO speeds and volumes to add variation.
3&4: The drums on tracks 3 and 4 are treated similarly to the melodic sample described above. Essentially the same loop wearing different costumes.
5: Track 5's 'organ' was created using the Tracker's wavetable playback feature with a tiny snippet of the down-pitched piano.
6: Track 6 contains some single shot drums.
7: Track 7 is home of the vocal samples.
8: Track 8 is a stab made from a slice of the main sample on tracks 1/2.
TheGhostCat
Northern California based producer, TheGhostCat, has been honing his skills in hip-hop production for over a decade. Adorning a fresh moniker and straying only somewhat from his background as 1/2 of the hip-hop band 'Aquifer', TheGhostCat's delicate arrangements of carefully sourced samples continue to challenge the boundaries of hip-hop and storytelling.
TheGhostCat is currently working on an instrumental album made entirely on the Polyend tracker, yea, he likes it that much. Subscribe on Youtube, Instagram and Bandcamp for regular tracker beats and project updates.