Scene: Stazma – Voltage Song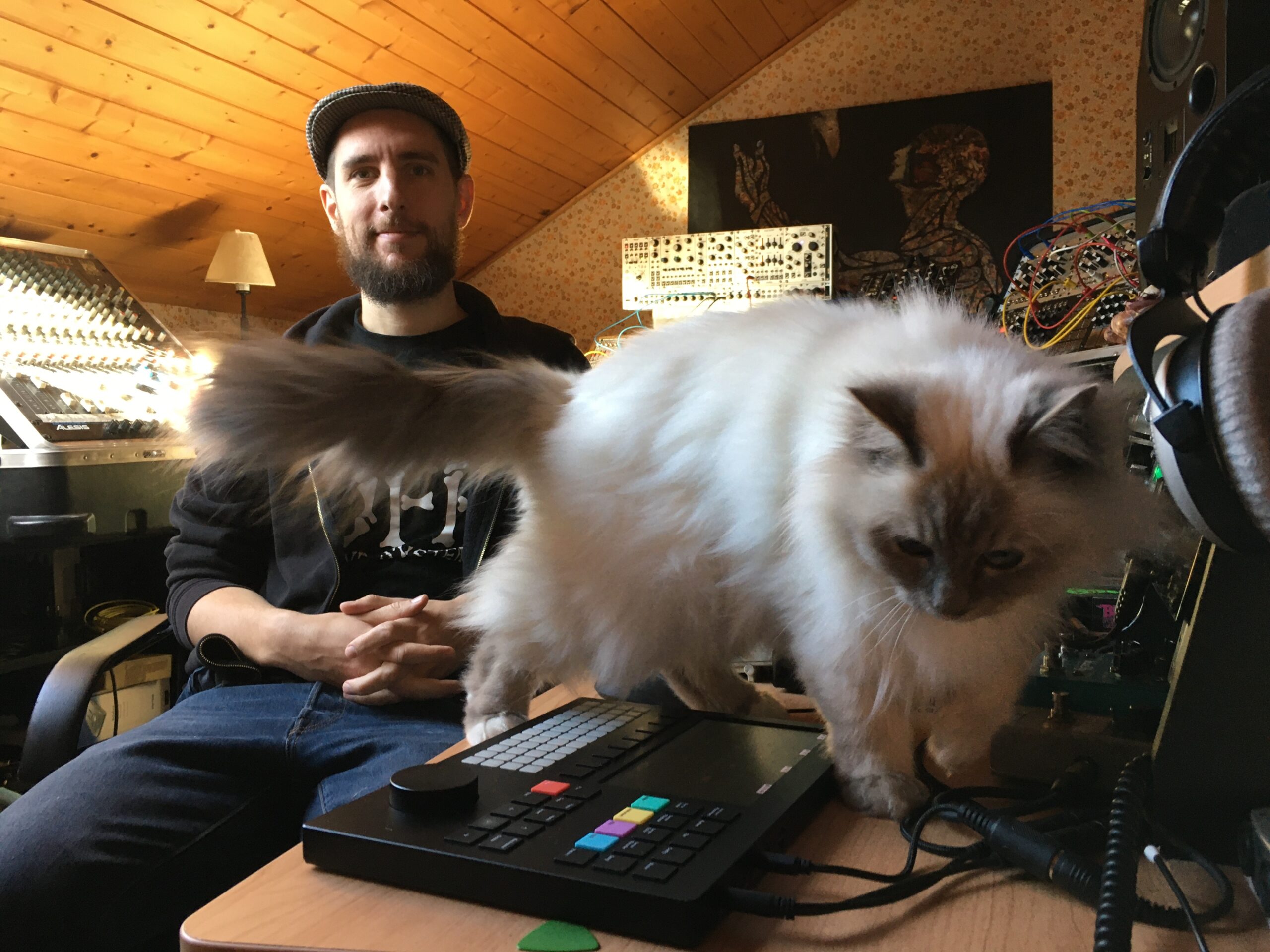 "Hi there, my name is Julien, I make music that people call Breakcore under the name of Stazma most of the time, but also music people call Braindance as Repeat Eater."
"I came across the Tracker while it was in the early teasing stage, and watching some videos online made me think it could be something I'd be interested to work with. Most of my tracks relay on heavily edited breakbeats and synthetic rhythms that I usually do in a DAW.
In my quest of getting away from the computer screen as much as possible, I was in the market to buy a drum machine that could playback samples. And just at that time came the Tracker from Polyend."
Download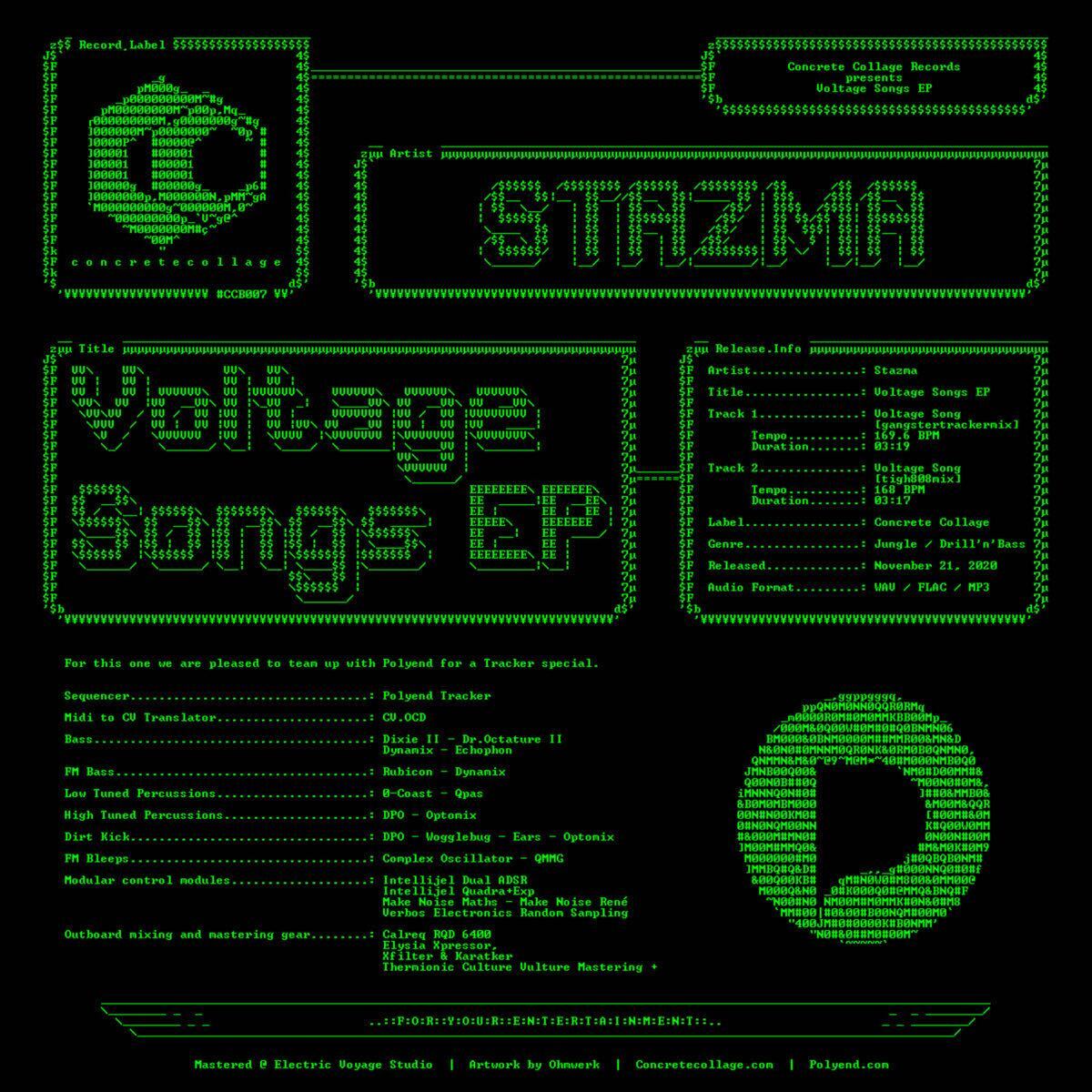 "I've been working with Renoise a bit a while ago and remembered it as the perfect breakbeat mangling tool but I did not like the rest of the interface that much. I had no patience to learn a new set of keyboard shortcuts. This is why the Tracker appealed to me directly. After messaging Polyend out of nowhere to ask if they needed more beta testers I ended up with an early access unit and the mission to make a sample pack and demo tracks for it.
And well, I must admit that it was so much fun doing those as I knew this groovebox will be a strong keeper! Apart from the sample torture that I expected from the Tracker I was happy to discover that I actually love the way everything is displayed on the screen and that it makes much more sense to me than a piano roll (never been good with those things!). The fact you can choose your root note and scale make it very easy to compose without having to think too much about musical theory or even pure experiments.
The MIDI sequencing is also a very nice point and I find myself sequencing most of my hardware synthesizers and drum machines from the Tracker instead of doing it from Live like used to. The fact you can apply rolls and other step FX to MIDI makes it very creative, especially with modular as you can set the velocity to modulate anything (can't wait for that big midi firmware update coming in version 1.3).
The cherry on the top is the performance mode that let you jam out ideas by remixing your pattern on the fly. This already led to a few exciting recordings that I probably wouldn't have done otherwise."
Description
"The origin of this project was to compose a full song on the Tracker, using mostly modular synthesizers. I use a CV.OCD midi to CV converter so the Tracker can speak directly to my Eurorack systems. My first experiment with this set up led to this jam. Once this track was done I multi-tracked it to my computer and polished it a little bit, added some details to make it a little bit more interesting.
From there as I wanted to be able to share this with other users on the Polyend Tracker Scene, I made a bunch of samples using all those sounds from the modular and decided to make another track out of it. This is the track you have here, feel free to use any of those sounds in any way you like. I used mostly the Slice play mode here, so I could make different chunks of audio, sequence those back in any orders that felt right (or wrong) and play those at different speed easily. The time-stretched version of the breakbeats was made using the Akaizer (but as I write this there is a very potent time stretch included in the Tracker already available!)."
Stazma / Repeat Eater / Electric Voyage Studio
Hailing from the same French stock as Monster X, Rotator and the infamous Peace Off imprint, Julien Guillot has been smashing up raves across the world for 10 years (since his first release on Peace Off in 2008) and is showing no signs of slowing down.
Having taken the early breakcore ethos of genre-mashing and amen splicing, Julien delivers a sound made of jungle, acid, industrial and metal with a modern, tight production that is synonymous with the French these days.
As well as making a name for himself with releases on Peace Off, Murder Channel, PRSPCT and now his own label Concrete Collage, it is Stazma's live show which displays his work best. A frenetic, yet finely tuned assault on the senses.
2020 sees the release of Stazma first full-length album "Shapeshifter", less violent than before, more experimental and still very weird and intricate.
In 2016 he started a new alias, Repeat Eater, creating organic and weird acid music using analog synthesizers and drum machines, both live and in the studio.
Julien Guillot is also a sound engineer at his own "Electric Voyage Studio", half of the band Golden Fangs, a sound designer and a teacher in the sound synthesis using modular synthesizer at "Les Escales Buissonnières" in Lyon.